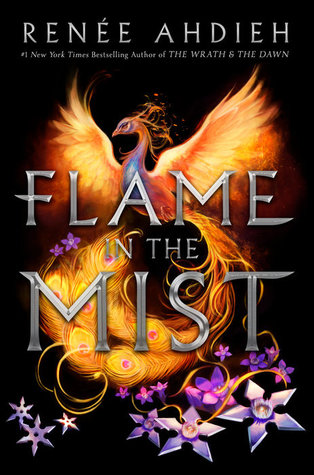 The only daughter of a prominent samurai, Mariko has always known she'd been raised for one purpose and one purpose only: to marry. Never mind her cunning, which rivals that of her twin brother, Kenshin, or her skills as an accomplished alchemist. Since Mariko was not born a boy, her fate was sealed the moment she drew her first breath.
So, at just seventeen years old, Mariko is sent to the imperial palace to meet her betrothed, a man she did not choose, for the very first time. But the journey is cut short when Mariko's convoy is viciously attacked by the Black Clan, a dangerous group of bandits who've been hired to kill Mariko before she reaches the palace.
The lone survivor, Mariko narrowly escapes to the woods, where she plots her revenge. Dressed as a peasant boy, she sets out to infiltrate the Black Clan and hunt down those responsible for the target on her back. Once she's within their ranks, though, Mariko finds for the first time she's appreciated for her intellect and abilities. She even finds herself falling in love—a love that will force her to question everything she's ever known about her family, her purpose, and her deepest desires.
(via Goodreads)
Despite its size, Flame in the Mist was a quick read. Mariko was an interesting character, but I found her to be quite naïve – to the point of distraction on some occasions. She is described in the book as being a careful study and knowledgeable, but I didn't really see this play out in the novel. I felt Mariko to be a slightly 'feminazi' character in places, especially when she's punching the soldier. It was just a little too much rage against men in general, rather than directing it to where it's called for.
It was never really clear why they wanted her dead (to me). No spoilers, but there is an attack on her convoy and she is forced to go into hiding, to hunt for those that tried to kill her. But even when the perpetrators are revealed, there is no clear reason why. I wonder if book two will be a little clearer. There was some great supporting characters that live in the background, Prince Wu and the consort were a couple that I wanted to know more about. I hope they expand these characters in the next book.
SPOILERS BELOW
I had two problems with the book. The first, when Okami realises Mariko is a girl, why did he not wonder where she came from and put two and two together, and realise she was the princess that was attacked? It takes him ages! Also, when she falls out with the Black Clan and returns to the forest to find them, they just accept her without question. There was no bridge. She wasn't there, and then she was. And it was just accepted.
END SPOILERS
Mariko's brother was a little misguided. I felt like his chapters slowed the book down. He seemed to intend to find her, go out, not find her and then come home. I would have believed it more if he had gone on without the soldiers to find her. That would be a more believable character action of a brother. And as an aside, funny that Prince Raiden was this strong cute guy until the very end and then all of a sudden he's a jerk?
Overall, it was a good read, and I am hopeful that book two will answer questions and bring these smaller characters into play.
3/5