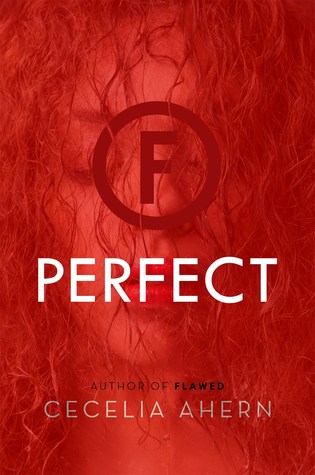 Celestine North is Flawed.
Ever since Judge Crevan declared her the number one threat to the public, she has been a ghost, on the run with Carrick, the only person she can trust. 
But Celestine has a secret—one that could bring the entire Flawed system crumbling to the ground. A secret that has already caused countless people to go missing. 
Judge Crevan is gaining the upper hand, and time is running out for Celestine. With tensions building, Celestine must make a choice: save just herself or risk her life to save all Flawed people.
(via Goodreads)
Perfect is book two in the Flawed series by Cecelia Ahern. Directly following on from book one, Perfect rejoins Celestine on her mission to have her brands removed and sentence overturned. There is not much telling when catching us up on the story, which was good. Despite the events of the first novel, I feel like Celestine is still naïve. She is still relying on others to tell her what to do. And it takes until two thirds of the way through the book before she starts relying on herself.
Celestine's feelings for Carrick are slightly obsessive. And her feelings for Art interfering in her relationship with Carrick just turned it into a somewhat love triangle, which I loathe. I got tired of her constantly saying Art was a good person, when his actions consistently showed he wasn't. The last minute turn in his character was too convenient. I think Celestine would have grown more as a character if Art had been a bad guy.
During the book we meet a number of evaders who are in hiding from the Whistle-blowers. I got a 'Stepford Wives' vibe from them. The confessions of the flawed, and Carricks's parent's admission that they were found flawed because they were anti-vaxxers, I didn't feel endeared to them or sympathetic. I perceived the author put this in there to make a point about accepting people's different opinions, but it failed for me. It is a stupid and dangerous thing to even be perceived as supporting.
I felt the end was too neatly wound up. For something so big, it just seemed to end with a wrap up and it was over. With that said, I don't think there would be enough material for a third book, unless the guild kept going, or there was an uprising. Although, I did like Celestine in the last quarter of the book. I liked that she marched to her own drum and did what her gut told her. It made for a much better character.
3/5