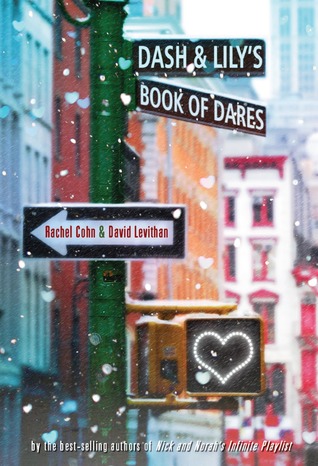 "I've left some clues for you.
If you want them, turn the page.
If you don't, put the book back on the shelf, please."
So begins the latest whirlwind romance from the bestselling authors of Nick & Norah's Infinite Playlist. Lily has left a red notebook full of challenges on a favorite bookstore shelf, waiting for just the right guy to come along and accept its dares. But is Dash that right guy? Or are Dash and Lily only destined to trade dares, dreams, and desires in the notebook they pass back and forth at locations across New York? Could their in-person selves possibly connect as well as their notebook versions? Or will they be a comic mismatch of disastrous proportions?
Rachel Cohn and David Levithan have written a love story that will have readers perusing bookstore shelves, looking and longing for a love (and a red notebook) of their own.
(via Goodreads)
This book was our 'Book of the Month' for book club.
Cohn and Levithan have taken a chapter each of this novel – Cohn as Lily and Levithan as Dash, and given us a story of Dash and Lily, two polar opposites brought together by a red moleskin notebook during the silly season. Usual hi-jinks ensue thanks to miscommunication and non-communication.
I was a little disappointed in this story. I found Lily to be annoying and Dash extremely pretentious. In fact, I thought Lily was 14 or 15 through most of the book until she said she was applying to colleges the following year. Dash was a cardboard cut out of a know it all, 'worldly', "parents don't care about me" teen. I felt like he was doing Lily a favour more than genuinely liking her sometimes. And he had to have the hot Spanish ex-girlfriend but decided to go for the geeky, awkward, never been kissed girl? It just felt contrived.
Can I also say that the stereotypical supporting characters were offensive at times. For example, not all hispanic people use phrases such as a 'mamacita'. It irritated me, apologies.
I wanted real characters, not ones that were contrived to be 'cool' or 'edgy'. I note it's not a standalone – I won't be reading any further.
2.5/5