NOS4A2 is a spine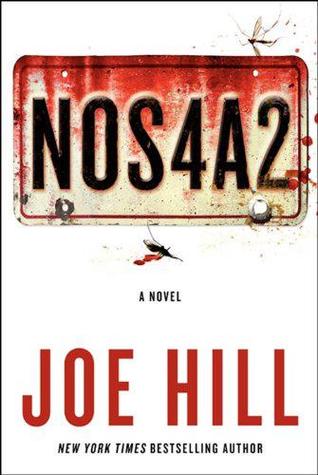 -tingling novel of supernatural suspense from master of horror Joe Hill, the New York Times bestselling author of Heart-Shaped Box and Horns.
Victoria McQueen has a secret gift for finding things: a misplaced bracelet, a missing photograph, answers to unanswerable questions. On her Raleigh Tuff Burner bike, she makes her way to a rickety covered bridge that, within moments, takes her wherever she needs to go, whether it's across Massachusetts or across the country.
Charles Talent Manx has a way with children. He likes to take them for rides in his 1938 Rolls-Royce Wraith with the NOS4A2 vanity plate. With his old car, he can slip right out of the everyday world, and onto the hidden roads that transport them to an astonishing – and terrifying – playground of amusements he calls "Christmasland."
Then, one day, Vic goes looking for trouble—and finds Manx. That was a lifetime ago. Now Vic, the only kid to ever escape Manx's unmitigated evil, is all grown up and desperate to forget. But Charlie Manx never stopped thinking about Victoria McQueen. He's on the road again and he's picked up a new passenger: Vic's own son.
(via Goodreads)
Hill's NOS4A2 (or NOS4R2 if you live in the UK or AUS) is a 690+ story of Vic McQueen, a flawed and broken woman, suffering PTSD and struggling to be a good mum to her son, Wayne.
As a child, Vic found a link (or portal) to other places – and another world. During one of her trips she crosses paths with Charles Manx, a vampiric child killer, and her world is forever changed.
This narrative, despite its size, is a fast read. I found Vic a likeable heroine, real in her pain and passion. Charles Manx is a creepy villain and (unfortunately for the world) believable. Hill does very well in showing us Manx's pure belief that he is doing good in the world. Manx's sidekick Bing Partridge is visceral, he has a smell and air about him that is revolting. I am so glad there is no such thing as scratch and sniff novels!
The only disappointing thing about this book was part of the ending. I won't spoil it, but I wish that part had ended differently. However, the story reminded me of classic Stephen King, which I later found it Hill is his son 🙂
4/5