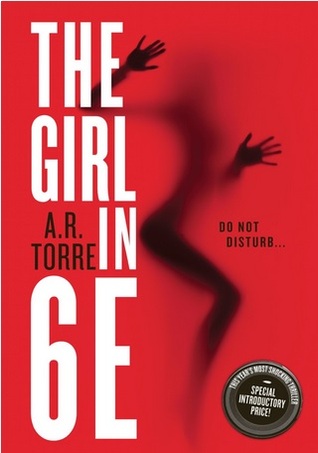 I haven't touched a human in three years. That seems like it would be a difficult task, but it's not. Not anymore, thanks to the internet.
I am, quite possibly, the most popular recluse ever. Not many shut-ins have a 200-member fan club, a bank account in the seven-figure range, and hundreds of men lining up to pay for undivided attention.
They get satisfaction, I get a distraction. Their secret desires are nothing compared to why I hide… my lust for blood, my love of death.
Taking their money is easy. Keeping all these secrets… one is bound to escape.
What if you hid yourself away because all you could think of was killing? And what if one girl's life depending on you venturing into society?
Enter a world of lies, thrills, fears, and all desires, in this original thriller from A. R. Torre.
(via Goodreads)
This book is an onslaught to read. It starts with the shock factor and continues throughout the remainder of the book. Tough subject matter, TGI6E is the story of cam-worker Deanna who realises one of her customers may in fact be a child predator. When a report of a missing girl has eerie similarities to her online exchanges with the unnamed man, she feels compelled to investigate. Throw in that she harbours fantasies of violent murder and she's been an agoraphobic for the last three years, and you have a thriller of a story.
I wanted to love this book. It sounded so different to what I normally like, I was really excited. And it was well written. The story was touted as Dexter meets Fifty Shades of Grey. And it had the FSOG. But there was little of Dexter.
ure, she had the thoughts, but they were lame. The fantasies and the attempted acting out was lame. It was lacklustre and disappointing. She wasn't nasty, a dirty killer etc. She had the same thoughts most people did. And the more you delve into this part of her psyche, the more you feel like she's just a poser. She wants to be a bad a—killer, but she's not. She's not even a tiny bit evil.
And it let the book down immensely. TGI6E is the first in a series, and I won't be reading the rest. Really disappointing (yeah, I know I've said it already).
2.5/5