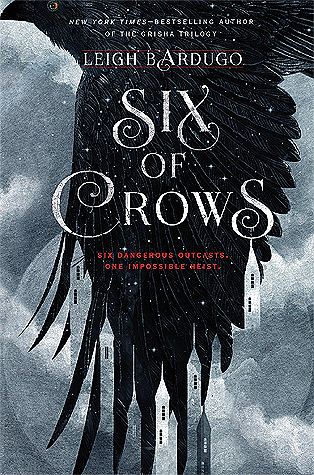 Ketterdam: a bustling hub of international trade where anything can be had for the right price—and no one knows that better than criminal prodigy Kaz Brekker. Kaz is offered a chance at a deadly heist that could make him rich beyond his wildest dreams. But he can't pull it off alone…
A convict with a thirst for revenge.
A sharpshooter who can't walk away from a wager.
A runaway with a privileged past.
A spy known as the Wraith.
A Heartrender using her magic to survive the slums.
A thief with a gift for unlikely escapes.
Kaz's crew are the only ones who might stand between the world and destruction—if they don't kill each other first.
(via Goodreads)
Bardugo's Six of Crows (SOC) is the first in a new series set in the Grisha universe. SOC is a story about Kaz Brekker, one of the most notorious criminals in Ketterdam, who is made an offer he cannot refuse. Break into an impenetrable fortress, capture the mark, and return with him before they are caught or killed.
Art by Kevin Wada
As I read this book and started to hear more and more about it, I discovered that there were two types of people – SOC people, and Shadow and Bone people. Having finished the former, and having already completed the latter, I can confirm I am an SOC person.
I really enjoyed these characters. They have depth, humour, and you care about them. Bardugo obviously loves the Grisha world and it shows. I just adore this universe, there is so much going on.
My only complaint is that it ended suddenly, but that was a given considering it was the first in a series. I am really excited to read Crooked Kingdom!!
I would recommend this book to lovers of YA, mystery and fantasy.
4/5